How to Convert YouTube Videos to AVI?
2019-03-19 08:54:56 Posted by Rebecca
2003
Summary: If you want to download and convert YouTube videos to AVI, you should take a look at this article. Here we list some best YouTube to AVI converters and show you the detailed steps of converting YouTube videos to AVI.
Nowadays it's hard to imagine a time without YouTube and even harder to find a better platform for our video watching needs. However, YouTube is not without its flaws and every now and then you may find yourself wanting to download certain videos and watch them offline. Luckily, there are a number of tools out there that allow you to do just that and today we're going to talk about some of the best ones. To be more specific, tools that let you convert videos on YouTube to AVI because that's one of the most popular formats around.
Part 1: How to Download YouTube videos to AVI Using Basic Tools
Online Video Converter
Now let's take a quick look at an online YouTube to AVI converter. There are a few different options you could try but Online Video Converter is probably the most popular one so we'll use this one for our example. These types of tools do have some limitations but they tend to work pretty well for short videos and are great for those situations where you don't want to install traditional software.
1. Visit the official website and pick the Convert A Video Link option.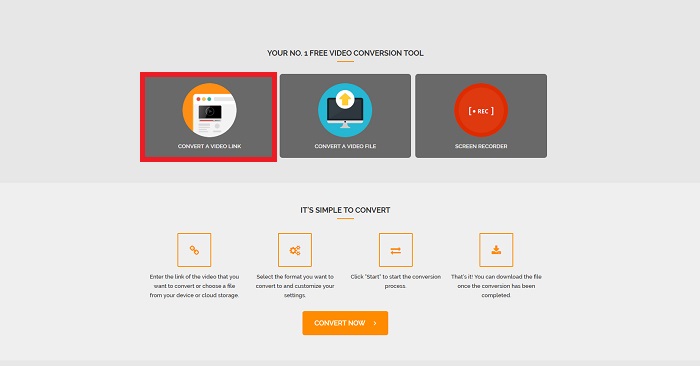 2. Go to YouTube to copy the link of a video and then return to the website to paste it in.

3. Pick the output format, which in this case is going to be AVI, and then click the More Settings button to get access to a couple more options.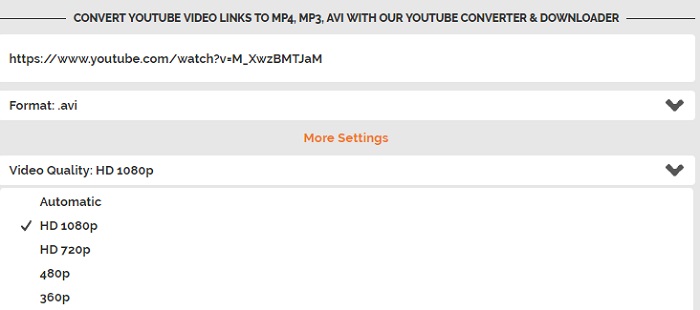 4. Press the Start button and a new window will open up once the conversion is complete. Click the Download button and you're all done.
Files Conversion
If Online Video Converter isn't quite up your alley we recommend another free online tool known simply as Files Conversion. Just like the previous tool, you can use it to convert a video from YouTube to AVI, as well as a variety of other formats. There are even a few uncommon formats to work with like SWF, OGG, and MOV, among others. There is also a large variety of size options to choose from and four different options for the output quality.
1. Visit the official Files Conversion website and look to the right to find a menu labeled Related Tools. Click the option that says YouTube.
2. Go to YouTube and copy the link of the video you want to convert. Come back to the website and paste the link in the field labeled Youtube URL.
3. Go to the "Convert to" menu and pick the AVI option. Select the video resolution from the Size menu below that and then pick the quality of the output.
4. Click the Convert button and wait until the tool finishes processing your file.
YTD Video Downloader
YTD Video Downloader is another good YouTube to AVI converter that's very easy to use. YTD can convert files to a wide variety of different formats but we'll only focus on AVI for this example. An interesting feature offered by this tool is the ability to automatically resume the download if your internet connection goes down while you're trying to convert a video.
1. YouTube to select the video you want to convert and then copy its URL. Paste the link inside YTD and select the download quality and destination folder for the output.
2. Hit the red Download button to start downloading the file. The free version doesn't convert files while you download them so you need to convert the video from YouTube to AVI after you've already downloaded it.
3. With the file now on your machine, go to the Convert tab and hit the folder icon to load the video you just downloaded. Pick the format, conversion quality, and destination folder.
4. Once everything looks good, hit the Convert Video button to start the conversion and then go to the destination folder to access the AVI file.
Part 2: How to Download YouTube Videos to AVI Using Advanced Tools
Simple tools can be very useful but there are times when they simply aren't enough for the job. In those situations, you're going to need tools that are more advanced and can offer a wider array of features. In this example, we're going to use two great and fun to use tools just like that, namely DVDFab YouTube Video Downloader and DVDFab Video Converter. Don't worry, though, because they're both part of the same software suite so you won't have to download them separately. First, let's start off by downloading a video.
1. Open DVDFab 11 and go to the Utilities section to find a tool labeled YouTube Video Downloader. Open it.
2. A new window will pop up that looks just like the YouTube homepage. Use the search function to look for the video you want to download.
3. Pick the destination folder and then select the video quality from the Download button found in the upper left corner. Upon doing so, the download will start automatically.
4. Go to the download tab and check on the progress of the file to see when it's complete.
We now have an MP4 version of the YouTube video that we can play directly or convert to a different format. Let's take a look at how to use the built-in YouTube to AVI converter.
1. Open DVDFab 11 and this time pick the Converter module. Or, we can simply continue where we left off and select the "To Converter" option from the Download tab of DVDFab YouTube Video Downloader.
2. Go to the Profile Switcher in the upper left corner. Click the Format button and then select AVI.
3. Use the Advanced Settings and Video Edit buttons to customize the output file if necessary.
4. When everything looks good, pick the destination folder and then hit the green Start button to initiate the conversion process.
Conclusion
There are many ways to convert a video from YouTube to AVI format, some of which are better than others. While all the examples we talked about today have their own merits, the basic tools are not exactly ideal because of the ads and limited functionality in certain departments. If you want a smooth experience, we recommend the video converter tool found within DVDFab 11 as they were designed with user satisfaction in mind and are faster and more efficient than any of the basic tools.
And there are some free online YouTube downloaders helping you download YouTube videos, just read it.
You May Need Other Tools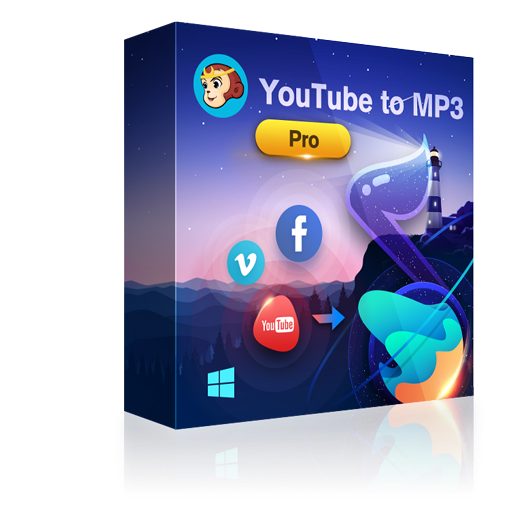 How to convert YouTube to MP3 easily? Just Read this article to learn it.